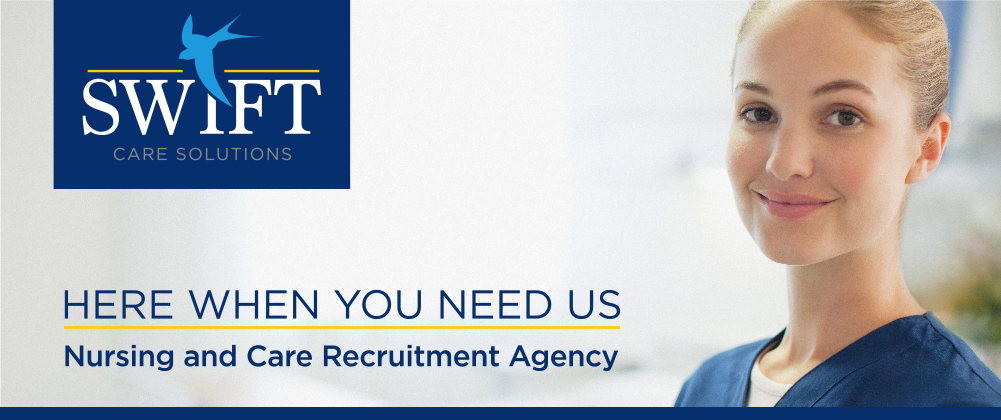 Swift Care Solutions specialise in recruitment and temporary staffing solutions to CQC Registered Care providers, together with consultancy services for care providers.
Swift Care Solutions directors have over 40 years' combined experience working within care homes: successfully managing Residential and Nursing Services, achieving consistently Good ratings with CQC, and with extensive experience of all aspects of the market.
We are in a unique position to understand the needs and expectations of our clients and the demand of the service. We aim to always respond 'Swiftly' and provide suitably qualified and experienced members of staff to fulfil your home needs.
Registered Nurses | Mental Health Nurses | Healthcare Assistants
Healthcare Team Leaders | Senior Support Workers | Support Workers
24-hour Shift Cover | Days | Nights
1:1 Cover | Temporary to Permanent
Our robust Recruitment procedures ensure that all staff undertake statutory and mandatory training as well as complying with legal requirements under current Employment and Right to Work legislation.
Regular customer satisfaction surveys and provider support visits ensure our service always meets customer expectation: we are happy to adapt and develop our services taking into account their views and suggestions.
We value all members of our staff and are proud to treat every team member with respect: investing
in your training and development in order to further your skills in the care sector.
To apply please email recruitment@swiftcaresolutions.com and request an online application form or click the link below to download a PDF form to be completed and sent back to us along with a short cover letter.
Need to get in touch? Please pop over an email to enquiries@swiftcaresolutions.com or give us a call on 01206 593750.
For bookings and out of hours requirements please call on 07955 856572.
21, The North Colchester Business Centre, 340 The Crescent, Colchester, Essex C04 9AD